Information security will always matter to the health of your business – but in these times, physical security needs to move up on the priority list. Once you start approaching physical security with more urgency, the first action to take is scheduling a security audit. This is an appointment that can show what needs to be done in order to keep your business safe from those who would trespass, burglarize or loiter at your site. Here are some of the security measures that may be explored during your security audit.
Landscaping and Natural Barriers
Your landscaping may look beautiful, but it can also be a wonderful security measure. Hedges can deter break-ins and trespassing by acting as natural barriers; they are most effective when trimmed at 36″ or lower (to prevent "hiding places") and covering the entire perimeter. In some cases, your landscape barriers may be good places to hide motion-triggered cameras for even better security. 
Signage and Lighting
A security audit will also look at your traditional, low-tech security tools like signage. Do you have ample signs covering the property and warning unauthorized individuals that your private property is protected? Are all of your signs easily visible? What about your lighting? Is it sufficient to keep the entire property illuminated at night, including the parking lot? The answers to these questions can determine whether your security efforts are extensive enough. 
Access Control Systems
Even with these effective low-tech security measures, your property still requires high quality electronic protection like access control. An access control system controls who is able to enter your building; it will only unlock the door for those who have an activated credential, whether the credential is a keyfob, a card or a scannable code on their smartphone. In addition, your access control system can be programmed to deny access to people outside of their work hours. Your access control system can be integrated all your security technology, including your intrusion detection system and motion-triggered security cameras. 
Building Maintenance
It sounds simplistic, but a clean, nicely maintained property is less likely to be a target for criminals. The fact is, most of them are daunted by the idea of breaching the security of a building with good upkeep. When upkeep appears to be suffering, many criminals see that as an invitation.
By scheduling a security audit of your business and making these necessary improvements to your physical security, you and your employees can enjoy a safer year in 2021. To request this appointment, or for information on any of the electronic security mentioned here, contact IDS Alarm Services. We look forward to helping you.
About IDS Alarm Services, Inc.
As an experienced security integrator, IDS Alarm Services, Inc. has served clients in the Southeast U.S. since 1990. Their innovative product offerings include Access Control, Fire Alarms, Network Wiring, Security Systems, and Video Surveillance. Contact us today if you have any questions about adding security or fire alarm systems to your property.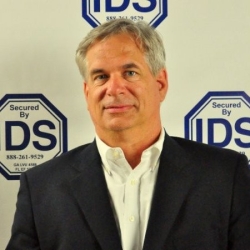 Latest posts by Jay Lassiter
(see all)