If you're the owner of an apartment complex, providing security is a responsibility that can protect you from liabilities while keeping your tenants safe and caring for your investment. Before you install video surveillance for apartment complex security, consider the best way to do it.
First, know where it is legal.
There are certain legal parameters that dictate where apartment complex owners can install video surveillance systems. As the owner, it is your right to install video surveillance around the property's common areas where access is uncontrolled and a reasonable degree of privacy is not expected. This may include the following areas.
Gated entry
Parking structure
Common hallways, stairways and lobbies
Swimming pool
Playground
In these places, people are entering, exiting and gathering and access is usually tenants-only. They are also places where there may be high risks of suspicious activity, and tenants expect to be protected in those areas. When having cameras installed, make sure tenants know where those cameras will be located.
Next, know where it is not legal.
Likewise, there are places around apartment complexes where video surveillance is not allowed. This starts with areas where tenants have a reasonable expectation of privacy, starting with inside their private residences. Aside from that rather obvious restriction, it is also not legal to install cameras in community bathrooms, changing rooms or laundry rooms. These are places where people expect privacy to conduct personal business.
Understand the difference between security and spying.
Apartment complex owners should know the difference between video surveillance for security vs. video surveillance for spying. At least 13 states have laws on the books to prevent illegal spying on rental tenants, customers and others. The legal language used: "Installation or use of any device for photographing, observing or overhearing events or sounds in a private place without permission of the people photographed or observed is considered a law-breaking behavior." Knowing and complying with this can protect you as an apartment complex owner.
The best way to add video surveillance to apartment complexes is the legal way. To discuss apartment complex video surveillance with experienced security professionals, call IDS Alarm Services. We will be glad to answer your questions.
About IDS Alarm Services, Inc.
As an experienced security integrator, IDS Alarm Services, Inc. has served clients in the Southeast U.S. since 1990. Our innovative product offerings include access control, fire alarms, network wiring, security systems and video surveillance. Contact us today if you have questions about adding security or fire alarm systems to your property.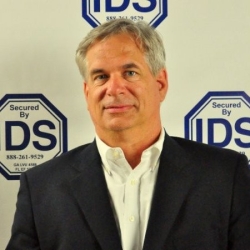 Latest posts by Jay Lassiter
(see all)