More businesses are doing away with old analog video surveillance systems in favor of IP security cameras. These cameras have a crystal-clear picture that allows you to zoom in on video footage. IP cameras are also popular because you can manage them remotely.
However, if you purchase the wrong ones for your infrastructure and don't manage the bandwidth smartly, you can see unanticipated costs. Here are some factors that affect bandwidth so you can better manage your cameras.
Choose the Right IP Security Cameras for Your Infrastructure and Network
One of the most critical parts of managing bandwidth is making sure that you purchase the right cameras for your business. Everyone thinks that the latest technology is the best choice, but that is only if your business infrastructure and network can handle the bandwidth. To understand that better, there are several factors that affect IP video camera bandwidth.
Resolution
The higher the video resolution of a camera, the more bandwidth it uses.
The Number of Cameras Connected to Your Network
The more video cameras you have on your network, the faster your internet needs to be to support them.
Frame Rate Per Second (FPS)
A higher FPS equals more bandwidth usage.
Video Compression Codec
Video compression codec determines how camera footage is packaged and compressed before transmitting it over a network to cloud storage. Two of the most common compression formats are H.264 and MJPEG. They reduce the internet speed needed for file transmission with improved compression.
In other words, the more high-tech your cameras are, the more bandwidth they use. There's also a formula to calculate the bandwidth of your cameras.
Bitrate (main) *N + Bitrate (sub) *M= Bandwidth (Mbps)
Here's a chart to help you understand the internet speed needed to support your IP video cameras.
It's easier to manage bandwidth when you can determine how much each camera uses. For this reason, it's critical to choose IP video surveillance cameras that work with your network and infrastructure. With the right cameras, you have a high-quality, innovative security solution that helps you document evidence of criminal activity and share footage for investigations easily.
ABOUT IDS Alarm Services, Inc.
As an experienced security integrator, IDS Alarm Services, Inc. has served clients in the Southeast U.S. since 1990. Their innovative product offerings include Access Control, Fire Alarms, Network Wiring, Security Systems, and Video Surveillance. Contact us today if you have any questions about adding security or fire alarm systems to your property.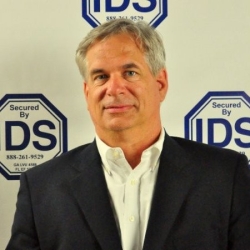 Latest posts by Jay Lassiter
(see all)