As technology advances, intelligent security systems provide more ways to manage access to your business. If you're still using traditional locks and keys, it's time to change to a smarter way to secure your property and protect your assets, employees, and property better. The future of building security is an access control system that gives you the freedom you need to manage your business from anywhere while enhancing security.
Unlock and Lock Your Business No Matter Where You Are
When you use locks and keys to secure your facility, dealing with lost keys is a significant issue. If someone locks themselves out, you need to respond to the site to let them in, even on your day off. With a new access control system, you can unlock doors for employees and unexpected deliveries through the mobile app on your tablet or smartphone.
Keep Your Property Secure All the Time with Automated Locking
It's easy for someone to accidentally forget to lock up at the end of the day. If you're not there to check it, your business remains unsecured all night. That's like setting out a welcome mat for burglars and thieves.
With a new innovative access control system, you can set alarm rules to automate your business. Set your security system to automatically lock at a certain time each day or when your employees arm the alarm. You can even set a rule that opens the doors every morning with a single command that unlocks the doors and disarms the system at the same time.
Always Know What's Going on With Tracking and Access Notifications
Intelligent access control integrates well with your other security systems and allows you to set alerts about any kind of activity associated with access control. Get notifications if your business closes late or open early. You can even set the system to send you video alerts for important security events like every time someone opens a secure storeroom or enters an area with restricted access.
With intelligent access control, you can say goodbye to lost keys and inconvenient trips back to work to unlock doors. Contact IDS for more information on how a new access control system can make managing access to your business easier and more secure.
About IDS Alarm Services, Inc.
As an experienced security integrator, IDS Alarm Services, Inc. has served clients in the Southeast U.S. since 1990. Their innovative product offerings include Access Control, Fire Alarms, Network Wiring, Security Systems, and Video Surveillance. Contact us today if you have any questions about adding security or fire alarm systems to your property.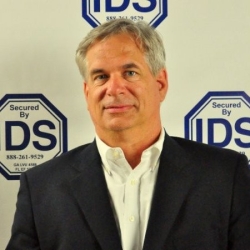 Latest posts by Jay Lassiter
(see all)